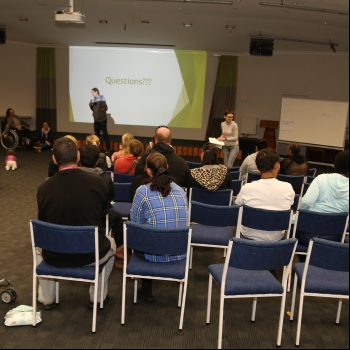 Practical workshops for education and health professionals, families, whanau, support workers and other interested people. These workshops looks at ways to maximise the use of low tech communication tools to support people's expressive and receptive communication skills.
Courses include:
Communication Opportunities throughout the Day; designed for school teams or an adult focus
The course covers:
Developing a communication toolkit
Core vocabulary: what it is and how to help people learn to use it
Modelling: Learn how vital it is to model the use of the system and practice how to do this in a variety of contexts
Planning communication opportunities

Lots of practical tools, resources, tips and tricks will be shared.
While the focus is low tech, the strategies covered can also be used with high tech speech generating devices.

We are offering both in person and online versions of the course for 2023. The online version allows you to join from anywhere in Aotearoa and work through the 8 modules at your own pace over a 6 week period. There will be a Zoom session with a TalkLink Teacher at the end of the 6 weeks.
2023 Cost: $150.00 per person (including GST), parents and whānau are free.

Group discounts (10 or more from the same organisation) and courses tailored for specific groups are available. Please email courses@talklink.org.nz to discuss your requirements.
Cancellations must be made 7 days prior. Refunds will not be provided if cancelled within 7 days of the course being run.
Upcoming courses:

No further courses are planned for 2023. Check back for our courses in 2024!
Complete the expression of interest form if you are interested in attending in 2024.