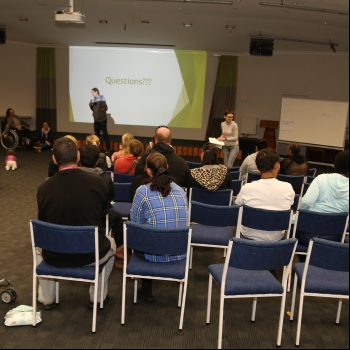 Practical workshops for education and health professionals, families, whanau, support workers and other interested people. These workshops looks at ways to maximise the use of low tech communication tools to support people's expressive and receptive communication skills.
Courses include:
Creating Communication Opportunities throughout the School Day; designed for school teams.
Creating Communication Opportunities throughout the Day; designed with an adult focus.
The courses cover:

Developing a communication toolkit
Core vocabulary: what it is and how to help people learn to use it
Modelling: Learn how vital it is to model the use of the system and practice how to do this in a variety of contexts
Planning communication opportunities

Lots of practical tools, resources, tips and tricks will be shared.
Cost: $100.00 per person (including GST), parents and whanau are free.
While the focus is low tech, the strategies covered can also be used with high tech speech generating devices.
Group discounts and courses tailored for specific groups are available please email courses@talklink.org.nz to discuss your requirements.
Upcoming Courses:
Palmerston North, Wednesday 4th September, 9.30am - 2.30pm

Ministry of Education, 1-3 Oxford Street, Hokowhitu, Palmerston North
For further information, please download the flier here
Auckland, Tuesday 10th September, 9:30 - 2:30pm - registrations are now closed, course is full
YMCA Mt Albert Community Centre, 773 New North Road, Mount Albert.
For further information, please download the flier here
Christchurch, Thursday 12th September, 9:30 - 2:30pm
South Library, 66 Colombo Street, Christchurch
For further information, please download the flier here
Te Awamutu, Wednesday 18th September, 9:30 - 2:15pm
Presbyterian Church Hall, 80 Mutu Street, Te Awamutu
For further information, please download the flier here
Nelson, Thursday 17th October, 9:30 - 2:30pm
Headingly Centre, Headingly Lane, Richmond
For further information, please download the flier here
Rotorua, Wednesday 23rd October, 9:30am - 2:30pm
Ministry of Education, Level 3, 1144 Pukaki Street, Rotorua
Street parking only
For further information, please download the flier here