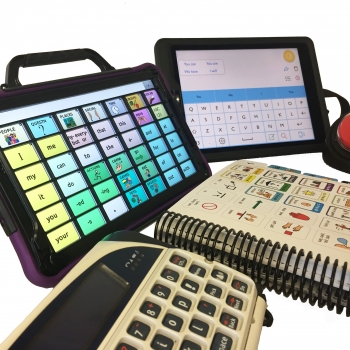 A practical, hands-on workshop where clinicians can upskill around the latest AAC systems available for trial and assessment consideration.
This workshop will focus on low, mid and high-tech options for clients who meet CAT Level 1 criteria. The day focusses on using SETT to inform decision making, identifying important features and functions of specific AAC tools and working through case examples to combine SETT and tool knowledge.
Cost $75.00 per person (including GST) per online course.

Please note therapists enrolled in supervision through TalkLink can choose to attend 2 of the workshops as part of their supervision.

Cost for in person workshops $150 per person (including GST).
Upcoming AAC Tools Workshops:
Hawkes Bay - Tuesday 8th August, 9am - 4:30pm

Ministry of Education, 8A Lever Street, Ahuriri, Napier
Street parking only
Christchurch - Tues 15th August, 9am-4:30pm
TalkLInk Trust, 15/2 Barry Hogan Place, Riccarton
Street parking only
Invercargill - Tues 10th October, 9am - 4:30pm
Ministry of Education, 190 Forth Street, Invercargill 9810
Spaces are limited
Auckland - Tues 10th October, 9am - 4:30pm
TalkLink Trust, 13 Coyle Street, Sandringham
Street parking only