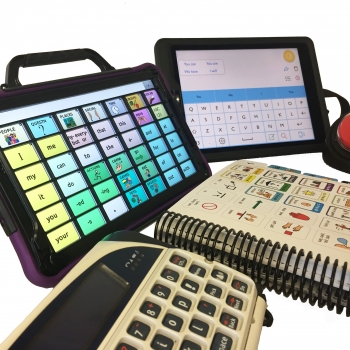 A practical, hands-on workshop where clinicians can upskill around the latest AAC systems available for trial and assessment consideration.
This workshop will focus on low, mid and high-tech options for clients who meet CAT Level 1 criteria. The day focusses on using SETT to inform decision making, identifying important features and functions of specific AAC tools and working through case examples to combine SETT and tool knowledge.
Cost $75.00 per person (including GST)
Please note this is free to therapists enrolled in supervision through TalkLink.
AAC Tools Workshops:
Auckland - Tuesday 9th April 2019, 9am - 3pm

TalkLink Trust, Building 51, Entry 3, Unitec, Carrington Road, Mount Albert.

Limited numbers available.
Paid parking available on the Unitec Campus, please do not park outside the TalkLink Office.
Hamilton - Wednesday 10th April 2019, 9am-3pm
Trust Waikato, Puna Kaupapa & Korero Rooms, 4 Little London Lane, Hamilton
Limited numbers available
Wellington - Wednesday 1st May, 9am - 3pm

Newlands Community Centre, 9 Batchelor Street, Newlands
Limited numbers available